SN Brussels Airlines
Brussels, Belgium
Belgian national flag carrier, operating the Brussels hub in the capital of the European Union.
Mr Erik Follet, Chief Commmercial Officer

" "I have relied on Schedule Consult's advice for several times already.

Always eye for detail. Out of the box thinking. Frank, sometimes confronting analysis.

Directly applicable solutions."
Schedule Consult's contribution to Brussels Airlines and pre-decessors covered a range of topics.

From tactical scheduling, via strategic projects, to the operation; turn times and maintenance ground times.
TURN AROUND TIMES
Year:

2005

Project Objective:

Objectivation of the discussion on turn times and their correlation with on-time performamnce and staff workload.

Project Content:

Process mapping of the entire ground time process between arrival and departure of an aircraft.

Design of alternative process flows. Modelled quantification of possible effects on punctuality. Evaluation with alll departments involved.

Tests of alternative process on tarmac and monitoring of on-time-performance during implementation phase.

Results:

Broad awareness that short turnarounds are feasible as they had been applied on large scale during test phase, even down to as little as 12 minutes.

Awareness that if the processs is well organized, staff workload pressure does not need to increase in order to achieve these times.

Awareness that under such conditions, short turns can even be instrumental in achieving better punctuality.

Lieve Mommaerts, Project leader for SN Brussels: "....(the) project was perceived within the company as highly delicate and sensitive. Thanks to Jaap's knowledge, insight and clear understanding of the in's and out's of aviation and ground/flight operations, (...) with tremendous analytical skills allowing him to asses a situation within a blink of an eye (...) both for the company, SN Brussels Airlines as for the project team (...) this was truly a learning experience..."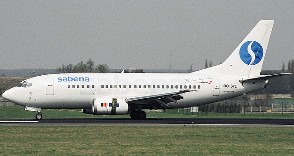 GROUND TIME POLICY
Year:

1999

Project Objective:

Comparison of capacity reserves in Sabena with effective needs in order to assess possibilities to improve efficiency.

Project Content:

Evaluation of maintenance planning, effects of operational reserves on schedule completion, planning of pilot trainings, long term fleet transition planning, etc.

Results:

Adjustment of standards for operational reserve capacity, streamlining of maintenance planning, harmonization with production planning and fleet transition program.

Mr. Paul Reutlinger, former CEO of Sabena: "Now it is proven that rationalizing our ground times does not have to affect our product delivery."
EUROPEAN LIBERALIZATION
Year:

1998

Project Objective:

Exploration of the opportunities of liberalization of the European aviation market for the complete SAir Group.

Project Content:

City presence analysis, defining the needs for the SAir Group to make its commercial position sustainable in all active sales regions.

Evaluation of network scenarios and quantification of their strategic impact on the sustainability of the sales position.

Results:

Concrete plan for development of a second hub in Europe.
HI-SPEED RAIL COMPETITION
| | |
| --- | --- |
| Year: | 1996 |
| Project Objective: | Assessment of the possible impact of new high-speed rail links between Brussels and London on Sabena's production; what is the best answer to this development? |
| Project Content: | Identification of critical sales motivations for travellers. Comparison of the Sabena product with the new competition based on these requirements. Identification of needed adjustments in the ground product and schedules. |
| Results: | Adjusted schedule to focus on sustainable strengths. Recommendation to strive for a no-frills terminal in coordination with airport authorities. |
INTEGRATION OF SCANDINAVIA IN THE HUB
| | |
| --- | --- |
| Year: | 1994 |
| Project Objective: | Trade-offs for Scandinavia schedules after fundamental change in hub strategy. |
| Project Content: | Competitive analysis on local markets with sales teams of the regions involved. Profitability analysis of all available alternatives. Joint evaluation of options. |
| Results: | Recommendation on new schedules for routes concerned. Shared support by all parties involved. Schedules successfully implemented. |